If someone asked me what my perfect running day would be, I'd say running 100 miles of laps. So when Centurion announced their Track 100, it was pretty much my dream race. The race is billed as an 'elite' level 100 miler and has got pretty strict qualification criteria (eg sub 17 hours for women/sub 15:30 hours for men for 100 miles) from 24 hours down to marathon distance. My best 24 hour/100 mile times were just outside the qualification standard, so one of my running goals in 2020 was to qualify for it and I ran 208.6km at Bernau 24 hours last October to get my qualifier.
I was so excited to qualify that I'd kind of glossed over the enormity of the task in front of me, and that to even finish the race I had to run my fastest ever 100 miles. My current 100 mile PB is 17:07 (which was my 100 mile split at Bernau) and whilst I know 100 mile and 24 hour racing are very different ballgames, I also knew I'd run a pretty much perfect 100 miles in Bernau to get that 17:07.
The race excited and scared me in equal measures. It excited me as it's a pure running race; there is nowhere to hide with 100 miles on the track. It scared me, because for a runner of my level, I knew I had very little margin for error, and I was looking at a very fine line between success (finishing and a 100 mile PB) and failure (not meeting the 17 hour cut-off and DNF). I'd never stood on a start line before, knowing that I basically had to run the most perfect race, just to finish.
Training for CT100
I'd been coached by James Stewart since October and training was going like a dream; sometimes you go through phases with your running and feel like you're invincible and you can see yourself getting faster and stronger, and I was in one of those phases. But I've been running for long enough to know that running likes to play games with you, and you should never let it lull you into a false sense of security. And with 6 weeks to go, I stopped feeling so invincible. Firstly, after a week of running too many of my BHASVIC triangle laps (if you live in Brighton/follow me on Strava you know!), I ended up with a slightly rotated pelvis; this was sorted quickly by my wonderful physio Dawn, but then led onto some other niggles in the area. I reduced my mileage in the final few weeks of training and dropped all speedwork. There were plenty of tears and it felt like I was losing the tiny margin of error I had going into the race. It was only six days before the race I made the decision that I would start, and only when I got to Tuesday of race week that running started to feel good again (nothing like cutting it fine!).
Getting into my 100 mile groove
Fifteen runners stood on the track on Saturday 24 April at 6am, all (except for one who was running a fast 50k) with the aim of running 100 miles as quickly as they could. Everyone had different goals; Aleksandr was aiming for the 100 mile world record, Sam was aiming to beat the long-standing women's GB 100 mile record, my aim was just to finish under 17 hours. Basically I'd be delighted to scrape under the cut-off with 16:59 on the clock, stinking of sweat, piss and sick! I was fully aware that I was the only runner on the start list who had never run 100 miles in under 17 hours, so everyone had their own pressures, but I felt I was the only one who had the pressure of DNF by cut-off.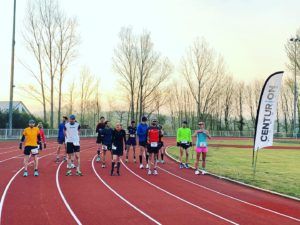 Aside from having to run 100 miles faster than I'd ever run it, my main worry about CT100 was that the pressure of the cut-off would be so stressful that I wouldn't enjoy myself. I run purely for the love of running and I didn't want to spend 17 hours worrying about what paces I was running. So I made a conscious decision not to think about the cut-off and to just stay in the present moment. As it turned out this was the best thing I did, I was always aware I had no time to waste (and my toilet breaks were strategically timed and kept to an absolute minimum!), but until the final couple of hours I didn't really think about the cut-off.
When I'm running a 100 mile race, I break it down into four x 25 miles and the first quarter is all about just getting into my 100 mile groove. I knew I was the slowest runner on the track and I would be lapped many many times during the day. To give you some context, I'm a fairly decent runner, but about one third of the field lapped me after two laps and the remainder of the field lapped me within four laps – it's a good job I have no running ego or I'd have probably sat down at the side of the track and had a cry before mile 2!
Music on and sunnies on, I got into my own little world, and apart from a few well dones to runners as we passed, I was fairly oblivious to what was going on around me. All I knew was that I was in a really happy place. Conditions were pretty perfect – cool and sunny, I was doing what I loved most, I got to see Tom every lap, and every time I ran past the lap counters and volunteers they gave you a cheer. There was nowhere I'd rather be, or nothing I'd rather be doing on a Saturday morning, and the miles flew by.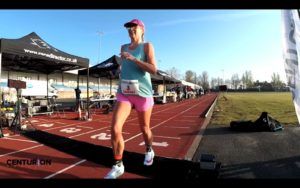 The funny second quarter
I always find the second quarter of a 100 mile race a bit strange, you've got into a nice 100 mile groove, but your legs are starting to feel a bit tired, and you know there's still a long way to go. However, I've run enough long races now to know that they don't ever really get more tired – my legs probably think 'oh here we go again' and generally accept that they're in it for the long haul!
Tom has crewed for me many times at track races and has his crewing down to a fine art. I keep my nutrition really simple as I know what works for me – Mountain Fuel drinks, MF Jelly's or GU Gels every 30 minutes, a pot of custard every 2 hours and a MF Recovery Shake every 4 hours, and this was working like clockwork. With the small margin of error I had, I knew any stomach issues would mean game over for me, but my nutrition was spot on throughout.
I prefer to run to feel rather than pace in ultras and the wind felt like it had picked up, so the side of the track I was running into the headwind, I consciously slowed down slightly just so I wasn't pushing too hard into the wind. I knew if I got to half way in around 8:10 hours feeling good, then with how I pace races, I could run a 8:40 second half and I'd be on track for sub 17 hours. As it turned out I hit 50 miles in 8:12, and I'd lost 3 minutes on a toilet break, so I was absolutely where I wanted to be at half way.
World records falling
The third quarter is normally my favourite of a 100 mile race as if you've paced the first half well then this is the time you can start pushing. I was feeling good, we'd changed direction again to my favourite direction, my legs weren't feeling any more tired than how they'd felt at mile 25, and I was still eating well.
A few runners were taking short walking breaks by this stage, even if it was just to take on food. I looked on enviously at them as I had no luxury of time to afford a walking break. Apart from three toilet breaks and three short breaks when Tom put some cream on my legs while I multi-tasked and ate custard, I ran continuously.
People often ask what I think about when I'm running laps and I think I must disappoint them with my answer because they expect I'm going to say something deep and profound and meaningful; most of the time I'm not really thinking about anything, I just put my music on and am in my own little happy world oblivious to anything else. However, this was one race where you couldn't fail to notice what was going on around you.
Aleksandr Sorokin (current 24 hour world champion and 2018 Spartathlon winner) was here solely with the aim of trying to beat the world 100 mile record of 11:19 hours. He ran like clockwork all day, almost making it look easy, and as I'd run about 68 miles, he hit 100 miles in a new 100 mile world record of 11:14 (to put that into context that's an average of 6:44 pace for 100 miles and is the same pace I ran my 1:28 HM PB in last year!) and then went on to beat the world 12 hour record. It was absolutely incredible to witness running of this level close-up.
When things start to unravel
As I entered the final quarter, nothing is ever a given in ultra running, but I was still confident I was going to finish around 16:50 – I was feeling good (well as good as you can feel at mile 80 of a 100 mile race!) and was still hitting the paces I needed to finish in under 17 hours. I was also making sure I was still eating; previously in long races I sometimes get lazy with my nutrition in the final hours and fade a bit, but fading wasn't an option in this race, and every 30 minutes I was still stuffing a gel down me.
With about 12 miles to go I realised that I was unable to run in a straight line – it got worse and I was staggering across the track like a drunk and crashing into the inside lane metal barrier. I wasn't aware until I saw video footage from afterwards that I was leaning really badly to my right side. The last 2 hours I spent on the track were the hardest I've ever had racing. I've always thought I'm not really cut out for ultras and pain and suffering, but I pushed myself harder in those final 2 hours than I ever thought was possible of myself trying to beat the 17 hour cut-off. My brain didn't work, so trying to work out how many KMs I had left from the timing board, then converting that into miles, and then working out what minute mile pace I had to hit, felt like I was attempting rocket science, but deep down all I really knew was that I needed to be running faster than the pace I was capable of running at that time, and I hated my Garmin for telling me I was moving so slowly.
I could see my pace slipping down to 11 minute miles on my watch and I knew this wasn't going to be good enough to finish under 17 hours, but there was no way I was going to leave the track until I had to. Tom came and spoke to me and him and James had worked out at my current pace I was going to finish in just over 17:00 hours so I'd need to run faster to finish, but also he was worried I was going to seriously injure myself as I was leaning so much.
I knew my race was over. I had 96.5 miles and 16:27 hours on the clock. It sounds ridiculous that I couldn't run 3.5 miles in 33 minutes but I genuinely couldn't push any harder.
A part of me was a little bit relieved that Tom and James had taken the decision out of my hands. Otherwise I know the kind of person I am and I would have carried on dragging myself around the track until 11pm only to DNF. And as soon as I stopped running my right leg completely gave way and Tom and Nici had to carry me over to our crewing area.
Post-race
I'm genuinely not disappointed. Of course I would have loved to have finished in a 16:50something finish time but I always knew it was going to be a very fine line between success and failure for me. And I tried, but I failed. People can say as many nice things as they want, but the facts are I had to run 100 miles in under 17 hours and I ran 96.5 miles in 16:27 hours, so I failed in that respect. However, I know I gave everything I had on that track, and I firmly believe that as long as you give your absolute best on the day, then that's a success of a different kind, so I'm proud of my 96.5 miles.
I really don't think I could have done a thing differently on the day to get a different outcome. I paced it exactly how I wanted to, I ate every 30 minutes for 16 hours, and Strava tells me my moving time was 16:19 and my elapsed time was 16:27, so I 'wasted' 8 minutes over 96.5 miles, so short of pissing myself (it did go through my mind!) I couldn't have saved time anywhere else. The simple truth was that I just wasn't quite good enough and I hold my hands up and admit that.
Physically I'm in a whole world of pain and am waiting for MRI results for a suspected stress fracture, but I wouldn't have changed a minute of Saturday's race….well except for being able to run it just a teeny bit faster!
It was an absolute privilege to share a track with so many incredible runners and see so many amazing performances (Aleksandr's world records, Sam's GB record, Ali's V45 record, Mark running the 9th fastest 100 mile time ever by a Brit, and Stephen and Grant running super PBs). Hopefully one day I'll return and be able to join them as a CT100 finisher.
Thank you to everyone at Centurion and the volunteers for doing what they did and putting the race on, especially in the minefield that is Covid-times.
Thank you to James for the brilliant coaching, I'm sorry you had so much belief in me that I could run sub 17 hours and I failed.
And as always the biggest thank you to Tom for the crewing, maybe one day I'll stop running laps and you might get a more interesting crewing gig!