I could write a book about how not to run a sub 3:15 marathon, but without going into the long-drawn out details, it's safe to say I don't have a good track record with road marathons!
It wasn't until last year when I ran a 3:15 at New Forest marathon on an undulating mixed-terrain course, that I started to think maybe I wasn't 'that bad' at marathons, and I'd planned two shots at the elusive sub 3:15 in 2020, Brighton in April and Reykjavik in August.
I had great blocks of training for both, and felt like I was in sub 3:15 shape, but 2020 was the year of COVID race cancellations, and both were cancelled just a couple of weeks out. I felt like my marathon jinx was going to continue for another year!
When races started again in the UK in the summer, I ran a 1:28 PB at Lee Valley Half Marathon, also finishing 1st female, and RunThrough, the race organisers, give the race winners a free entry into another of their races. At the time I already had a 10k and another half marathon in November (both rescheduled from earlier in the year), so I decided to use my free entry to Goodwood Marathon in December.
I was really relaxed about it – as it was only 2 months after Bernau 24 hours I didn't know how recovery from that would go, and if I'd get any quality marathon training in, but I figured I could always change to a shorter distance if I didn't feel up to giving the marathon a good shot.
As it turned out, after a couple of weeks recovery from Bernau, I seemed to quickly get back to where I'd been in the summer when training for Reykjavik. England went back into lockdown in November which meant my November races were cancelled, which in hindsight was a good thing as it meant a less busy end of year race calendar, and I could get some good long marathon training runs in. I'd also started working with my new coach, James Stewart, at the end of October and I was loving the different approach to my training and could definitely feel myself getting faster.
With the uncertainty of Coronavirus, I didn't actually find out Goodwood was going ahead until just over a week before, but once England came out of Lockdown 2.0, England Athletics confirmed races could go ahead again with COVID-protocols, and it was Goodwood game on!
Goodwood was the second RunThrough race I'd run after Lee Valley, and I can't praise their organisation enough – it's not easy being a race organiser in COVID-times but their approach is exemplary. There were various race distances all happening on the day, the first of which was the marathon at 9am, consisting of 11 x 2.3 miles of Goodwood race track.
As someone who loves running laps, the course was perfect for me, however it became apparent on the first lap how open and exposed the track was, and the northerly wind direction meant half of every lap was run into a strong headwind.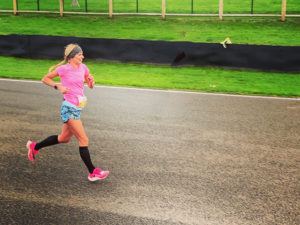 My plan was to go off at 7:15 pace, I'd practiced this in training, and knew it felt comfortable and was confident I could run a marathon at this pace. However, the wind was playing havoc with my pacing. When I had the tailwind behind me I was running 7 minute pace and forcing myself to slow down, yet when I was running into the headwind I was having to push harder to maintain 7:15 pace. I never normally run to pace, and always run to effort, but I was so focused on nailing the sub 3:15 that I was fixated on hitting 7:15s.
By the time I got to about mile 17, I knew I'd pushed too hard into the headwind miles and was really struggling to maintain pace when I was running into the headwind and my pace dropped by up to 30 seconds a mile and I could feel sub 3:15 slipping away from me. I couldn't face the thought of spending yet another year as NOT a sub 3:15 marathon runner, so I just got my head down, capitalised on the fact that when I had the tailwind I was still running 7:15s and dug in for the final miles. Once I was on the final lap, and with the knowledge that I didn't have to run into that headwind one more time, then I got a final burst of energy and my final mile was the quickest of the race at 6:54 pace.
I crossed the finish line in 3:11:42 – finally I was a sub 3:15 marathon runner!
Overall, I was absolutely delighted to get the sub 3:15 monkey off my back, however I knew my race execution had been pretty poor – I should have run to effort as opposed to pace, and then I wouldn't have died pathetically into the wind in some of the headwind miles, but after wanting to run sub 3:15 for so long, the fact that I achieved it when I didn't have the best of races, I definitely feel that on a good day, I can take a bit more off that time. The project for a sub 3:10 marathon starts in 2021!