I'm Sarah, a qualified Running Coach and Pilates Teacher from Brighton, England. I run everything from parkrun to 100+ mile ultra marathons, and everything inbetween. I run on trails, in the mountains, across deserts, on roads and around the track….basically I just love running!
I credit regular Pilates in keeping me injury free as I race across all distances, and I'm a huge advocate of how running and Pilates can work together to keep athletes healthy and strong.
I'm a UESCA Running Coach, Level 3 Pilates Teacher and member of REPS, and coach and teach all levels and abilities.
I'm an ambassador for Mountain Fuel and grateful receive their support in the pursuit of my own running goals.
Whether you're a runner wanting to start Pilates to compliment your running, a runner wanting coaching for your first ultra marathon or an experienced runner looking to take your running to the next level, then I can help you achieve your goals.
Your background and ability is irrelevant, all I ask for is passion and enthusiasm to meet your goals!
I teach all levels of Pilates. My classes mix traditional Pilates with a sporty twist, and incorporate a particular emphasis on strengthening and stretching areas that are used in running.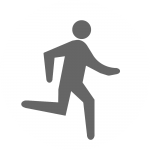 Through bespoke one-to-one coaching I can help you meet your running goals, whether you're training for your first marathon, or you're a more experienced runner looking for new challenges.