Ever since I ran my Sparta auto-qualifier at Crawley 24 hours last year, 2019 was going to be all about Spartathlon.
The Build-Up
I've always been in the quality over quantity camp when it comes to racing ultras, as I'd rather focus on a couple of key races a year and (hopefully!) run them well, rather than churning out multiple long races as I think my training suffers by racing a lot. Therefore, my last long race before Spartathlon was Basel 24 hours back in May. I'd hoped to run 130 miles, but the camber on an amended route meant after 20 hours my left knee had swollen to an extent I couldn't bend it, so after walking for an hour and pretty much dragging my leg behind me, I made the decision to finish at 21 hours as I wasn't sure how serious my knee was and I didn't want anything to jeopardise AAUT and Spartathlon. Although I only ran 115 miles at Basel, I went through 100 miles in a new 100 mile PB of 17:13 which had felt comfortable so I knew my endurance was in a good place. Fortunately my knee was nothing more sinister than a swollen bursa and I was back running after a week and I ran AAUT multi-day race in Southern Spain in July. This was one of the best things I did training for Spartathlon which was one of the reasons I'd originally booked it – 4 days of running distances ranging from 23 – 30 miles, plus a long day of 42 miles, on mainly hard packed trails and in temperatures of up to 40 degrees. It was a perfect Sparta training week and a great opportunity to test out kit and nutrition for Spartathlon in race conditions.
Apart from Basel and AAUT, the only other races I've done in the build-up to Spartathlon were Downland Challenge (28 miles on the South Downs) and New Forest Marathon. Neither were A races but I ran good solid races at both at the end of big training weeks, even coming away with a marathon PB at New Forest which was a good confidence boost as to my current fitness 3 weeks out from Spartathlon.
Training
One of the key things for me when I'm training for a race, and what Ian is a huge advocate of, is specificity. For someone who can often be a creature of habit when it comes to where I train, this suits me down to a tee! For Spartathlon I wanted the bulk of my training to be on hilly tarmac as Spartathlon is mainly 153 miles of undulating roads (plus the mountain). I found two loops close to where I live which were perfect for Spartathlon training and I've done a lot of my training on these two loops. Some people need views on their runs, anyway who follows me on Strava knows I'm happy running laps in the dark with a head torch on!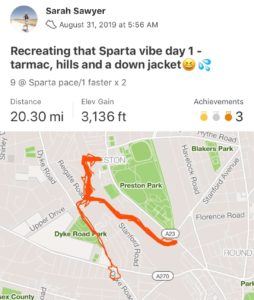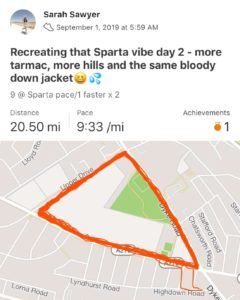 I don't run that high mileage compared to some ultra runners; again Ian advocates quality over quantity, so my average weekly mileage for Spartathlon has been around 75-80 miles. Some people seem to think for long ultras you need to be churning out super long runs, but there's no need to do training runs longer than 20-24 miles. Apart from the two races previously mentioned, virtually all my long runs have been around 20 miles. There's also been two speedwork sessions and a couple of easy recovery runs each week.
Running a race where the temperatures could hit mid 30 degrees, heat acclimatisation has played a part in training in the 4 weeks before race day. This has been in the form of heat acclimatisation runs, sauna sessions and hot yoga classes. Despite my northern upbringing, I've always tended to be ok racing in heat and I know heat acclimatisation really helped at AAUT. After two 'cool' years at Spartathlon, everyone tells me we are due a 'hot' year so if that's the case, at least all those runs sweating in a down jacket and multiple layers will have been worthwhile! And to be honest if you sign up for a race like Spartathlon you're expecting hot weather, and I'd rather have sunshine than last year's Storm Zorba!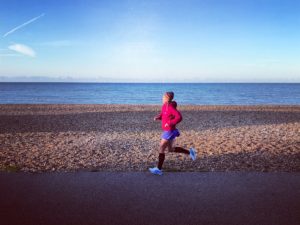 The most important thing for me when it comes to my running is to enjoy the process and training, and I can honestly say I've loved every run in this training block….even the ones in a down jacket!
The Race
I'll start by saying that this is the first time I'll have ever stood on a start line and I will be happy 'just' to finish. Every other ultra I've done to date, the cut-offs have been so generous that I could effectively walk the majority of it and still finish within cut-offs. With the 36 hour cut-off at Spartathlon, for 'normal' runners like me, there's not a lot of room for error. I'd like to think I can finish a bit quicker than 36 hours, and I've got a pace plan for my crew that plans for this, but ultimately if the wheels fall off I will be over the moon to make it to Sparta regardless of finish time.
People talk about the cut-offs at Spartathlon and whilst they're not massively challenging on their own (eg. marathon distance in 4:40 hours, 50 miles in 9:30 hours, 100 miles in 22 hours), they're designed to keep you on your toes throughout. Ian has told me I'm a fast enough runner that I don't need to worry about the cut-offs, so although I'm aware of them and of the 'death bus' looming in the background for anyone who falls behind the cut-offs at each of the 74 checkpoints enroute to Sparta, I'm not going to worry unduly about them and will just run my own race from the start. The worse thing you can do in any ultra is try and bank time so my plan is to go off super easy like I have done in 24 hour racing – I've already warned my Mum that I will be intentionally close to cut-offs in the first part of the race so she won't start panicking to my Dad!
Kit and Nutrition
I rarely use aid stations in races, apart from for water top-ups, and I plan to use all my own nutrition in Greece which I know works for me – Mountain Fuel drinks and Jelly's, Longhaul Ultra-Fuel food pouches and custard pots. I always aim to get 300 calories inside me per hour for ultras regardless of how I'm feeling, as I know that's the only way I'll still be running well in the later stages. There are checkpoints every 3-5km, but I'll be able to see my crew of Tom and David about every 10k after 50 miles. The regular nature of the checkpoints means you don't have to carry anything, however I like to have my own drinks and food to hand, so I'll be running with the Salomon Sense 5l Vest which is so light you don't feel like you're wearing anything.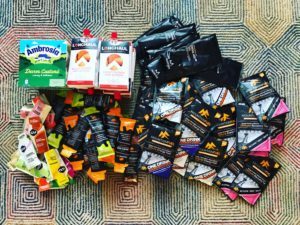 Trainer wise, after running Basel 24 hours in the Nike Vaporfly, there was no contest as to what trainers I will wear. However, I'll probably change into a pair of Hoka Speed Instinct for the mountain as they give better grip, and I'll have a pair of Hoka Clifton's as back-up.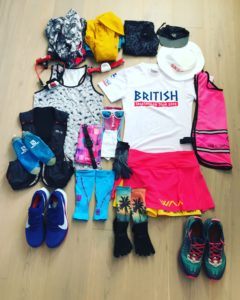 With less than a week to go until I'm standing on the start line in Athens, I couldn't be in a happier place. My training couldn't have gone any better, although that does scare me a bit as I've got no excuses! I know it's a long way and I know it's going to be hard. I know there is a reason why, despite the qualification standards, on an average year less than half the starters will make it to Sparta, but I feel so grateful that my legs can do these things and I'm determined to enjoy every minute of it….I'll get Tom to remind me of that when I've climbed the mountain at 100 miles and realise there's still over 50 miles to go!