Day 4
The long day is always my favourite day of multi-day racing. The main thing for me is to get to the long stage feeling good and with lots of running left in my legs and I definitely felt I'd achieved this here. I'm generally better at longer stuff though, and at 42 miles, I thought this 'long day' would be too short and fast for me. The temperature had been rising throughout the week and was due to hit 40 degrees today. There were three staggered starts today and being in the leading group we were due to start last at 8:30am. The pace was pretty fast from the off as I think some runners were trying to take advantage of a couple of hours of running before the temperatures got really hot, however I knew as with any ultra, trying to bank time would only come back and bite me on the bum, so I settled into an easy sustainable pace and I was probably back in about 5th or 6th position. The first couple of hours gave us a bit of shade as we ran around the gorgeous Lake Bermejales and through woods, however from then onwards the sun was relentless.
The course was a mix of steep climbs and lots of lovely runnable terrain and apart from a particularly long steep climb in scorching heat at around mile 15 where I started to feel I was wilting a bit, the miles passed really quickly. I could feel it was the hottest day we'd run in, but I didn't feel like I was struggling in the heat like some runners were so all the sauna sessions were definitely paying off – I also found wetting my hat and shoving as many ice cubes as I could in my bra and down my top worked wonders at every checkpoint!
I hadn't seen the front two of Manu and Fred for miles, but as I approached the second to last checkpoint I saw a distant figure who turned out to be Fred, and I closed the gap so by the time I reached the checkpoint we arrived pretty much at the same time. I was told that Manu had dropped out, and then Edwin who'd been running a brilliantly consistent race all day, arrived just after me. I realised that between me, Edwin and Fred, there was a small chance I could win the stage outright, so with 12 miles to go, the race was on!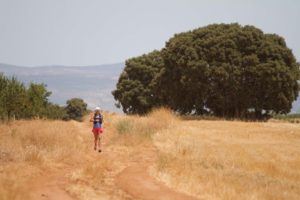 Another steep climb followed over scrubby terrain and then onto runnable trails and tarmac. I know you should never look back when you're racing but I couldn't resist taking a sneaky look back now and again to see if Edwin was closing on me. The incredibly talented race photographer, James, kept popping up and snapping away and it was a wonder I didn't trip and fall flat on my face in front of him as I kept looking back for an approaching Edwin! Every time I was tempted to take a walking break, I kept thinking of being caught – if Edwin caught me then he fully deserved to win but I wanted to feel like I'd given the stage everything I had. Every time it felt hard, I told myself to think of Spartathlon and how hard that's going to feel in the final miles. 
Finally I hit the trail that would take me to the camp site and I crossed the line to the biggest of cheers, 1st lady/1st overall in 7:35. The lovely Edwin finished 5 minutes after me and couldn't have been more gracious – one of the loveliest things about this week for me was how supportive and encouraging most of the male runners were.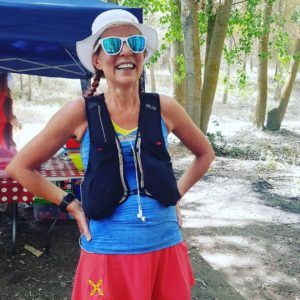 The only time I ever lose my appetite is immediately after an ultra, and despite tonight being pasta night at camp, I really had to force myself to eat. I'd made sure I'd stayed on top of my calories all week as I know as long as I have enough sleep and food then I can generally run well. This was the only time all week I hadn't replenished enough calories, but I hoped with just one more day of running to go, if needs be I'd get by just on adrenaline.
The stage results were announced and Eric announced that I was now first in the overall rankings by 45 minutes and if I could hold the lead tomorrow, then I'd be the first overall female winner of the race in the eleven years it had been running – no pressure then!
Day 5
With all the other multi-day races I've done, the long day is pretty much the final day of racing with just a short stage to finish. Here I had to get my legs ready to run another 23 miles after asking them to run a hard 42 miles the previous day. Fortunately my legs were still feeling good, my only concern today was feeling calorie deficient and tired as Rhianon and I had had our one late night of the week after all the excitement of the long day (when I say 'late', well we'd stayed up past 10pm!). I had a 45 minute lead in the overall standings which was pretty comfortable (unlike the top three men who were separated by about 8 minutes, with just 7 seconds separating Edwin and Samih!), however with multi-day racing you can't rest on your laurels until you cross the final finish line.
I didn't know how I'd approach the stage so decided to see how my energy levels felt when I started. Chris was 45 minutes behind me in second and I wished him a great race, as long as he was only 44 minutes faster than me! However any lethargy disappeared as soon as Eric set us off for the final time, so I decided to give the stage whatever I had left.
Again it was another really runnable stage and before the half way point I was sitting in second overall and then started closing the gap on Chris and I caught him up at the final checkpoint. I'd love getting to know Chris over the week and didn't want to come across as a dick by racing off; I was going to suggest running the final few miles in with him, but I felt like I needed to run my own race to the end, and also I wasn't sure how much I had left in me and I had this fear I'd end up struggling to keep up with him! As it turned out I gradually extended my lead, but Chris was never far behind and up until we reached Loja I thought either of us could win the final stage.
The sign to Loja welcomed us back, we'd covered almost 145 miles since we'd left Loja 5 days ago, and I crossed the finish line as 1st lady/1st overall for the stage in 3:46. I was also the AAUT 2019 overall winner in a time of 24:32:17.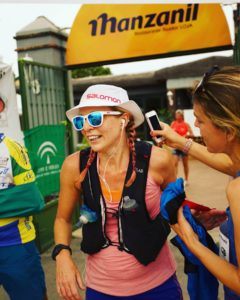 Post-race. It ended in a hotel in Loja.
As with all multi-day races, the hours once you've crossed the finish line pass in a haze of beer, awards ceremony, good food and this time I even had the surreal experience of an interview with a Spanish radio station about being the first female to win the race outright. AAUT award the most amazing prizes so I went home with Hoko running kit, Mountain King poles, a trophy and so much more, including 5 litres of olive oil – I can categorically say that getting the olive oil home on an EasyJet flight with a hangover was harder than the race itself!
I'm obviously delighted with the result and it exceeded all my expectations, but equally I'm just so happy with how I ran. Earlier this year when I was suffering really badly with anaemia I started to think I'd never run well again, so to have five consistently strong days of running has made me so happy and given me such a confidence boost ahead of Spartathlon. This was my sixth multi-day race, and whilst I openly admit to not being the fastest/best runner on the start line, there's two reasons why I seem to do pretty well at multi-day races. The first is patience. The race for me doesn't start until the long day, and the first few stages are all about taking it relatively easy and getting to the long stage with the minimum amount of damage done. This meant when I needed to I could run and race hard on the long day which is the most important day of the race and when the overall positions can really change. The reason why a lot of runners struggle or drop out on the long day is often down to pushing too hard on the earlier stages. The second skill you need for multi-day racing is consistency. In all my multi-day races I've never had anything that has gone 'wrong' for me, and whilst this is partly down to training and luck, it's also down to consistency and being able to manage my nutrition, my hydration, my sleep, my effort levels and anything else that is thrown at me, so that I can go out and run consistently well day after day. 
Kit and nutrition-wise I was really happy with all my choices. The Hoka Torrent worked perfectly on the mix of terrain we encountered and apart from two bruised toenails my feet escaped completely unscathed, and the Salomon Sense 8l pack was perfect for carrying all what I needed for each day of racing, whilst being super light. I took a sleeping bag but I'd probably just take a sleeping bag liner in future as although some people found the nights chilly, it felt like the height of summer to me. I definitely didn't need the family pack of baby wipes I left at the hotel but it was nice to put clean clothes on every day! Getting your nutrition right in hot temperatures isn't easy, but the combination of Mountain Fuel drinks and Jelly's, Longhaul Endurance and GU gels worked brilliantly in the conditions and I'll be replicating this combination for Spartathlon without a doubt.
Thank you to Eric, Michelle and Paul for putting on such a wonderful race; I loved every single minute of it – the sign of a good race for me is going home with an aching face from smiling so much and I definitely smiled so much at AAUT my face hurt! Thank you to the amazing volunteers for doing all what they did for us – sorry you had to keep seeing me shoving ice cubes down my bra! Thank you to all the runners I spent time with for making the race so enjoyable, and a special thank you to Rhianon for being such an amazing friend/tent buddy – even when her race didn't go as planned and she had to drop out of stage 4 with sickness, she was at the finish line cheering me in and had even blown my sleeping mat up for me – if I used emojis in this blog I'd finish with a big heart emoji here!
Thanks to Ian for the superb coaching and Mountain Fuel and Longhaul Endurance for the support and making such fantastic products that work so well in the heat.
Now it's head down for the next 10 weeks of Sparta training!