If I'm being honest, I'm pretty lazy when it comes to racing as I'm quite an unsociable runner and prefer to run early in the morning on my own – races tend to start too late for my liking and then there's all that faffing around pre-race hanging about aimlessly and trying to time your toilet visit! So if I'm on the start line of a race, it generally means I really want to run it.
Ian is a big fan of running around marathon distance races as hard training runs at the end of big training weeks and I know it does me good to get more of a racing hat on now and again. It also stops me being a creature of habit and often running the same routes in training at 5am in the morning, so I decided to do two races in the build-up to Spartathlon; Sussex Trail Events Downland Challenge (28 miles/4,000 feet on the South Downs) and New Forest Marathon (trail and road mixed terrain marathon in the New Forest).
I'd entered Downland Challenge because 2018 British Spartathlon Team legends Cat Simpson and John Melbourne had run (and won!) it in the build-up to their Spartathlon so it obviously had worked for them! Also I figured 28 miles in mid-August would be good practice for racing in heat. However, British summertime thought otherwise and the weather forecast leading up to the race was for a random summer storm hitting the UK that weekend with winds of 55mph forecast on the south coast….hardly the heat training I was hoping for! I guess the only consolation was that if Storm Zorba (the cyclone that hit the 2018 Spartathlon) made a reappearance then I'd have at least ticked the bad weather training box!
The wind was worse than forecast and as we left Brighton to head to the race start near Ditchling, several trees had been blown over and uprooted overnight. Ever the optimist, I was dressed as if it was going to be a balmy summer's day and after registering and realising it felt more like November, I tried to take shelter behind some cars trying to hide from the wind. Fortunately, my friends Ken and Anita were there, as Ken was running the half marathon, and took pity on my shivering, and we waited in their snug campervan until 10 minutes before the race was due to start.
I'd run the half last year so knew the race involved a steep 500 foot climb in the first mile, before it follows the South Downs Way. The half turns round at Housedean, whereas the full turns round at Southease; this whole section is one of my favourites parts of the SDW. Bizarrely, despite spending all of last summer mountain training, I felt stronger on the first climb this year. Once we reached the top and the SDW, then the wind hit. I was hoping we might be blessed with a tailwind on the way out, but the wind was coming from the sea and hitting me sidewards, so half the time it was a battle just to stay upright. Despite the less than ideal running conditions, I was feeling really good and the miles passed by. Several times a huge gust of wind blew my visor off and I had to resort to chasing after it. However I arrived at Housedean just a couple of minutes slower than I arrived the previous year when I was doing the half.
After Housedean hill we were really exposed on the ridge and the wind was ferocious. Several times I was nearly blown over and I got so bored of having to chase my visor that I ended up tying it round my wrist! The yellow brick road which is normally a dream to run hard down was mainly spent being knocked sidewards, and I knew it was going to be even worse on the way back when we'd be running into more of a headwind.
As I approached the turn around point at Southease, I knew I was first lady, but I'd only seen one runner on the reverse leg and I was surprised to discover that I was second overall. The reverse was as bad as I'd been expecting and basically felt like 14 miles running into a wind tunnel, the yellow brick road being particularly hideous as for every step forward I was taking, the wind was trying to push me two steps backwards. I knew I was wilting in the wind and I was deservedly overtaken by the second man soon afterwards. It was simply a case of getting your head down and getting the job done. Because of the weather, the Downs were really quiet for a mid-August Saturday; the few people I did pass just looked at me with pity!
Finally I left the SDW and knew I just had the sheltered descent back down to the start and it was a feeling of pure joy at finally being out of the wind! Pre-race and before I'd seen the weather forecast, I'd hoped to run 4:15 (based on my 1:59 for the half the previous year) so I was delighted to finish in 4:18:43 (1st lady/3rd overall) as I knew I'd lost a lot of time battling the wind in the second half.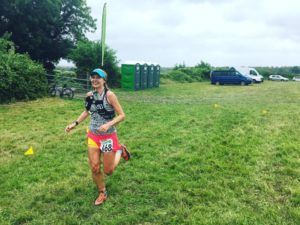 Whilst it hadn't been the hot sunny race I'd planned for, it was a really solid day of racing and it's always good to test yourself in less than ideal conditions as last years' Spartathlon showed that anything can be thrown at you on race day!
My other pre-Spartathlon race was New Forest Marathon. I'd mainly booked this because the following day I was going to Courmayeur for 5 days to support Tom racing Tot Dret, and whilst I knew I'd still be running out there, I figured if I'd run a marathon before I went, then my time in Courmayeur could mainly be filled with easy running, rather than trying to find a car park to do speedwork sessions in!
I didn't really know anything about the race (for the record and after running it, it's about 70% trail and 30% road, and the first half is pretty flat, whilst the second half is undulating) but several friends had run it and said how enjoyable it was.
For a race of its size (and with three other race distances also going on) the organisation was slick – even the toilet queues were manageable! Ian had told me to run the race at about 95% effort, so not flat out just 3 weeks before Spartathlon, and if I'm being honest I had no idea what my current MP is. My training for Spartathlon had gone really well, and I'd still been doing some speedwork (but nowhere near as much as if I was in marathon training), but the bulk of my training has been lots of slow miles at Spartathlon pace. I thought I'd aim for around 7:30-7:40 pace on the flat to see how that felt as MP, and then allow for a slightly slower second half where the hills were, targeting a 3:25 finish time.
The race started on hard packed trails and the miles flew by, there were some miles that were slightly quicker (when I was on road and there was some downhill) and some slightly slower (the uphills at mile 19 and 24) but mainly every mile hovered in the same 7:30-7:40 ballpark and it felt really easy and controlled. The course was gorgeous, the sun was shining, it was one of those perfect running days where you run every step with a massive smile on your face.
At around the half way mark I was told I was in the top 10, I hadn't come here to race but was pleased to be top 10 in a field of this size. However, in the second half I began overtaking several runners (both men and women) and with a few miles to go was told I was now fifth lady. As I was unsure of my marathon fitness, and also I was running the race at the end of a big training week with no taper, I was expecting to slow down towards the later stages, but instead the opposite happened and I kept passing people.
With about 3 miles to go, I'd moved into third and was still feeling strong and had been moving much better than the two women I'd previously passed. With a couple of miles to go, we joined up with the half marathon runners so the course did get a bit busy and congested for the first time, but most runners were polite and moved out the way if they saw you wanted to pass. I had no idea of my overall time as I'd been running with my watch on the lap face, however as I saw the finish line in the distance I switched faces on my watch and it was telling me I'd been running for 3:14. I knew there couldn't be more than a couple of minutes of running left, so somehow I was going to end up running a marathon PB on a mixed terrain/undulating course at the end of a 70+ mile training week.
My finish time was 3:15:59 (3rd lady). For various reasons which I won't bore you with, I've been jinxed with marathons, and I've had some absolute shockers on the couple of times I've actually made the start line, and had four marathon DNS's in the last three years suffering with anaemia and low iron. So it's somewhat ironic (and makes me very happy!) that on no specific marathon training, I end up running the best marathon I've ever run.
I'd recommend both races as either stand-alone races, or in the build-up to A races; obviously it's what happens on 27/28 September that counts, but they served as great confidence boosts that everything is coming together perfectly for Spartathlon as my road to Sparta continues….!